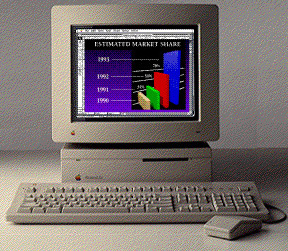 The most similar to previous modular Macintosh designs, the Macintosh IIsi was also the most powerful, expandable and expensive of the three consumer-oriented computers introduced in October 1990 (see technical specifications). Snow White lines cover its sides and top, associating it to the performance of the other Macintosh II models. The IIsi has the recessed base of the Mac II, but its surface is unadorned; the Snow White lines appear only above it. This contributes visually to the machine's already relatively small size. The front bezel has only the strip containing the floppy slot, and this surface is further softened by its 50-inch radial curve. This curve is answered playfully by the bulging vents that arc out of the back of the machine. The front bezel also tilts backwards five degrees to face the user in what suggests a gesture of anticipation.
The backward tilt and radial curve of the IIsi front bezel allowed it to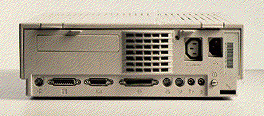 appear closely integrated with a monitor which Apple designed to sit on top of the computer, and the IIsi case and this display were shaped together to have the same footprint. The curve and tilt of the IIsi also make it consistent with the Macintosh LC, another new computer also shaped to have a close fit with its monitor.
---

To a crisis at Apple (1989)

To the Macintosh LC

---
Home || Introduction || Historiography || 1-Cottage industry || 2-Emerging standards || 3-Macintosh
4-frogdesign || 5-Corporate focus || Conclusion || Bibliography & links