Apple co-founder Wozniak speaks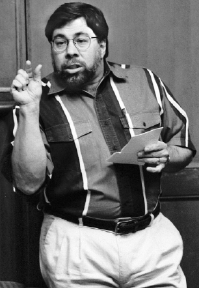 Noe Gutierrez - Daily
Steve Wozniak describes his experiences co-founding Apple Computer to sudents in Burbank lounge last night.
---
By Sylee Gore
Staff writer
Jerry-rigged cattle prods, Dial-a-Joke hotlines and a phone call to the Pope are a few of the notable things that Steve Wozniak has made in his life. The first Apple computer is another.
Last night, Wozniak spoke to a packed audience in the Burbank lounge about the years that led up to the founding of Apple Computer Inc., with a healthy dose of pranks mixed in for laughs.
By the fifth grade, Wozniak was deciding between engineering or teaching as a profession. "I thought, 'Well, elementary school teachers earn the most money, right? They have to make more than engineers.' "
However, Wozniak was wooed away by the intricacies of wires and soldering irons. "Once, a group of kids in my neighborhood ran fences up and down the street and made an intercom between our houses," he said.
Speaking on electronics, Wozniak commented, "You throw a switch. Something happens. That's what I like." Noting Wozniak' s flair for circuitry, his electronics teacher in high school arranged for him to learn the FORTRAN programming language at a nearby engineering firm.
While there, Wozniak punched cards to write a program that solved the chess problem of the Knight's Move. "I realized, after the program kept failing, that the brute force of the computer's speed isn't as important as the human's algorithm," said Wozniak.
Still in high school, Wozniak found a book that described a computer's inner workings. Lacking any formal training, he nonetheless began cobbling together a computer that maximized the use-value of each chip.
"My goal became 'the smaller you make it, the better the design.' I didn't have anyone to show it to, but I was excited enough about it to keep going," he said.
In college, Wozniak handled his share of punch cards and problem sets. More memorable, though, are the pranks he pulled.
"I remember reading a piece in Esquire [magazine] that was listed as fiction," Wozniak reminisced. "It described a network of the brightest engineers in the country who could direct calls with these special blue boxes they had built. But . . . the thing that kept getting me was that the numbers sounded too exact to be made up."
Intrigued, Wozniak called up his friend Steve Jobs - with whom he later founded Apple - and read the article aloud to him. Determined to investigate, the two snuck into the Stanford Linear Accelerator Center where "those high-powered brainy guys don't lock things up real good." In the library they found the information they needed to make free phone calls to the Vatican.
After spending a few years in college, Wozniak began designing scientific calculators for Hewlett-Packard Co. While there, he learned of the Home Brew Computer Club, a group of computer enthusiasts who met in a Menlo Park garage.
"These weren't the well-dressed managers," Wozniak said. "These were the technicians who wanted to build the computers."
Wozniak exhumed his high school schematics and began experimenting with microprocessors. Wozniak asked himself, "What do I want the computer to be?"
He explained that "too many people were locked into the idea of a computer as an enormous box" sprouting wires and myriad switches. Wozniak, though, "wanted to type English." With this in mind, he built a computer that factored in a terminal and a keyboard.
Up to that point, computers had been built by hobbyists from kits. However, as Wozniak's design evolved, he and Jobs began bandying about the idea of selling pre-fabricated computers.
The decision coincided perfectly with a skyrocketing interest in computers. Intending to sell only a few hundred, the nascent Apple Computer Inc. was soon getting 50,000 orders for computers.
Despite Apple's successful debut, Wozniak was not satisfied. "Why should human beings have to memorize anything?" he asked himself and answered by switching from text-based commands to a graphics-user interface. The famous Macintosh desktop metaphor was quickly disseminated to computer-users across the country.
Although Wozniak is now considerably less involved in the daily workings of Apple, he retains a keen interest in the future of personal computing. The possibilities of the Java language and the place of computers in schools are two of the issues that continue to engage his interest.